In honor of the 20th Annual Northeast Artists' Studio Tour, we've interviewed our super talented artists to share how they got where they are and why they make the work that they do.
Our next feature is of potter and designer, Elisabeth Maurland. Elisabeth's studio is location #7 at 707 W Main Street in Decorah. This year's tour is Friday through Sunday, October 13th to the 15th, with all locations on the tour open from 10am to 5pm each day.
Who are you and what kind of art do you make?
My name is Elisabeth Maurland, I am a potter, and more recently also a designer of greeting cards and textile products.
How did you come to being an artist?
I have always liked to draw and make things, but I didn't take an art class until I came to Luther College from Norway when I was 20. I took a ceramics class because I had the opportunity, and I was hooked. I graduated as an art major and continued on to grad school for a Master's degree in Art. I then worked for five years at a pottery studio in Wisconsin where I threw pots and decorated them. After those five years I moved back to Decorah and opened my own pottery studio, which I have maintained full time for over 20 years, selling my work at art fairs and galleries around the country. Some of the surface designs from my pots are also being printed on textile products.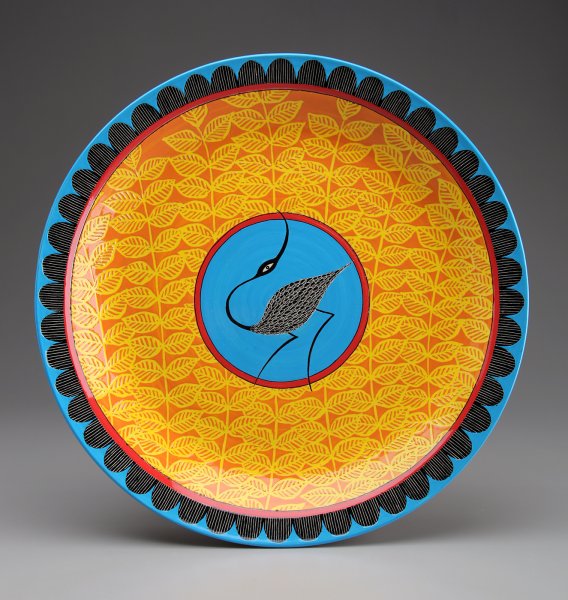 What do you enjoy most about being an artist? What part of your process do you most enjoying doing?
It's kind of magical that from a bucket of sloppy, lumpy mush a finished, shiny, colorful, elegant piece of pottery can emerge. I enjoy almost all parts of the process, with a few exceptions. Although once I get started, I can kind of get into those exceptions too, like preparing clay and making handles. I just have to psych up for them. As far as what I like the most about being an artist, I like the variety of the work, my autonomy, the ability to be creative.
What inspires you?
Looking at good art. I really should go to art museums more often. However, it doesn't make me work more or be more creative, it just makes me want to work more and be more creative. My own work is what keeps me going. When I see a shelf full of finished pots, that gives me the energy to keep at it and keep improving.
What jobs have you done other than being an artist?
Other than summer jobs and after school jobs, I have never done anything else, that is, until recently. I took up translation a handful of years ago and have been supplementing my income that way. I am still self-employed and autonomous, and I love the work. It's still creative, but in a different way, and a nice change from being dirty.
Who is your favorite artist or what is your favorite piece of art?
Paul Klee resonates with me. But I don't believe I have one favorite piece of art.
What is the impact on the arts on community and society?
Life would be dull and uninspiring without the arts. Imagine a society without community theater, dance performances, live music, music in general, art museums, books, movies. What would be left? I don't believe there has ever been a society without art of some kind.
What memorable responses have you had to your work?
My very first art fair was in the middle of Illinois. It was a small show, not a lot of visitors there, but I started seeing people being drawn to my booth from the sidewalk, and they were laughing! They were all laughing! I didn't necessarily intend for my pots to be whimsical, but I did like to paint animals in ways that I thought were kind of funny. I did not expect others to see it the same way. So that was a nice surprise.
What's the best piece of advice you've been given?
It wasn't so much advice as an assignment: "Draw the ugliest drawing you can make!" I discovered that it was practically impossible for me to actually try to draw ugly, and it got me started on my road to loosen my own restrictions on myself. Sort of like "unlearning", to then start relearning.
What will we see when we come to your studio? How do we get to your studio?
My studio is in a lofty location, on the second floor of a building we built in our backyard, up on the hillside. It overlooks the river and the valley, or it used to, before our trees got so big. My studio is a bright, comfortable room with lots of space. It's best reached by walking after parking by First Lutheran Church. But you can drive a car in there too, if necessary. More than one, though, and it would be gridlock.
More about the Northeast Iowa Artists' Studio Tour:
The Northeast Iowa Artists' Studio Tour is a unique opportunity to explore artists studios for an intimate look into their creative process and a chance to purchase their newest works right out of the kiln, hot off the presses, paint freshly cured...you get the point! This year, you can experience 51 artists at 38 locations while also taking in the charm of Northeast Iowa's small communities, local fare, and the breathtaking scenery of the Driftless. Each artist is different, but they all share a passion for imagination and each one welcomes their guests with gusto. Visit the Tour's website to download a brochure, map, or GPS coordinates for each location.
SaveSave